Passion meets preparation
In UC's Athletic Training program

Advance your career and develop your passion. Your UC degree prepares you for a career as a an athletic trainer. Completion of the program allows you to meet the eligibility requirements for both the national professional examination administered by the Board of Certification (BOC) for Athletic Trainers and the state licensure exam necessary for practice.
We're situated at the center of the Cincinnati medical community, so our student's benefit from being in such close proximity to some of the regions best health care facilities. With neighbors and partners like Cincinnati Children's, UC Medical Center, Veterans Affairs, and UC Athletics - our options for collaboration are limitless. 
Brand New Facilities - The $61 million Health Sciences Building gives students access to innovative labs and a breathtaking environment to learn and grow. 
Cohorts are no more than 20 students - allowing our faculty to give individual attention and advisement throughout the program. 
Unique clinical placement opportunities
The program has clinical affiliations with the University of Cincinnati Department of Athletics,  Cincinnati Bengals, Futbol Club Cincinnati, the Florence Freedom baseball club and many of the high schools in the region. All of the major health care systems in Southwest Ohio and Northern Kentucky as well as many physician practices in orthopedic surgery, internal medicine, dermatology, and primary care are also among the available clinical sites. Unique clinical experiences across the country can also be arranged, including opportunities in Major League Baseball, the National Football League, Major League Soccer, and colleges and universities across the country.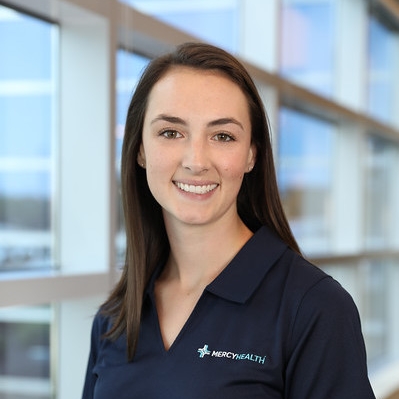 Carolyn Meder
| MS, ATC, CES, CSMS
Mercy Health / Cincinnati SportsMedicine & Orthopaedic Center
SportsmetricsTM Program Athletic Trainer
"My time in the athletic training program at the University of Cincinnati has played an immeasurable role in my development as a successful young professional in the field of athletic training. The program not only introduced me to a wealth of athletic trainers who have become lifelong mentors but also to a diverse field of allied health professionals whose passion for their role in caring for patients has inspired me to do the same."