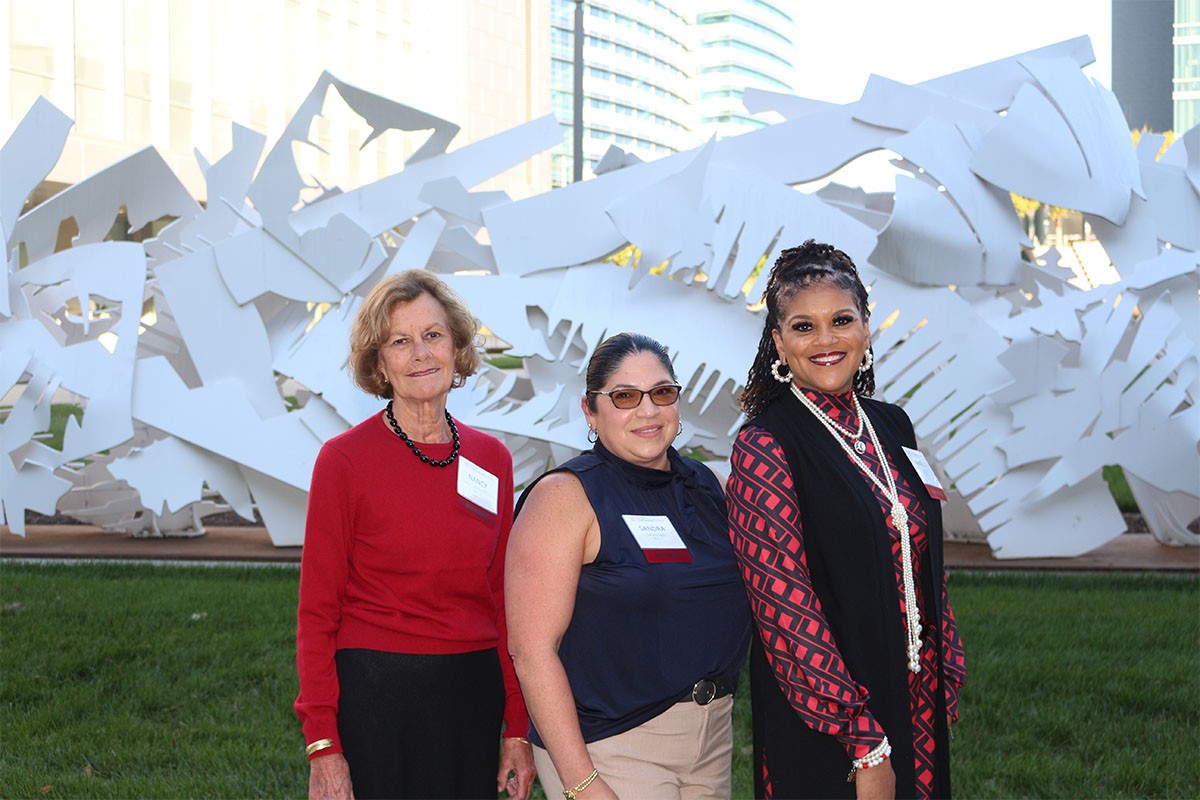 Distinguished Alumni Awards
Each year, the College of Allied Health Sciences will award one alumnus from each department with a Distinguished Alumni Award. Please join us as we continue this exciting tradition.
Brian Driscoll '89, Department of Rehabilitation, Exercise and Nutritional Sciences 
James Gruber '75, '77, School of Social Work 
Janice Habel, MT (ASCP) '83. Department of Clinical and Health Information Sciences 
Donna Murray, PhD, CCC-SLP '01, Department of Communication Sciences & Disorders
UC Alumni Association Outstanding Alumni Award for CAHS: Tom Herrmann, EdD
UC Alumni Association Mosaic Award: Harrison Blackmond, AuD
Distinguished Alumni Award Criteria
Graduate of the University of Cincinnati in one of the following departments: clinical and health information sciences, communication sciences and disorders, rehabilitation, exercise and nutrition sciences, or social work more than 10 years ago.
Has made a significant contribution in his or her chosen profession through practice, teaching, administration, education, research, writing, organizational work involving health care or an innovation in health care.
Current employees of the University of Cincinnati are not eligible for consideration
2018
During the college's 20th anniversary in 2018, 20 individuals were given the 20 in 20 award at the 20th Anniversary Celebration. This honor replaced the Distinguished Alumni Awards for 2018.
Recipients of this honor are as follows: 
Beth Bextermueller
Genise Caldwell, MA,CCC-SLP, '05,'07
Susan Carlson,MSW,LISW-S
Sarah Couch, PhD,RD
Nancy Creaghead, PhD, CCC-SLP
John Gatch
Donald Harrison, MD
Terri Hollenkamp MA, CCC-SLP,'83,'85
Elizabeth King, PhD
Laura Kretschmer EdD
Colin MacPherson MD (1924-2004)
Lizanne Mulligan, PhD ,PT
Jean Sepate MSW,LISW-S, '83
Becky Smith, MEd, RD
Rose Smith, DPT, MEd, PT, SCS, ATC
Paul Steele, MD
Nancy Talbott, PhD, MS, PT
Jeanette Taylor, PhD
Alan Vespie, MEd, CNMT, RT(N), '12
Tina Whalen, EDD, DPT, MPA, PT
UC Alumni Association Outstanding Alumni Award for CAHS: Erin Head
2017
Julie A. Dooling, '13, '15
Gene K. Balzar '80, '83
Allison E. Baker-Kuhn '13, '15
Amy Banks '06
Miriam Crenshaw '83

UC Alumni Association Outstanding Alumni Award for CAHS: Nancy Nevin-Folino
2016
Alan Vespie, MEd,CNMT, RT(N), 82', 97'
Ian McKay, PhD, 76', 91'
Nicholas Ollberding, PhD, 08'
Elizabeth Dulaney-Cripe, MD, 05', 09'
Gregory Stewart, PhD, 81', 12'

UC Alumni Association Outstanding Alumni Award for CAHS: Jean Sepate, 70', 83'
2015
Dana Harley, PhD, MSW, LISW-S, '03
Julie Honaker, PhD, '99, '06
Debra Lierl, Med, RRT, '75,
Thais C. Morata, PhD, '90
Lauren Niemes, Med, RD, LD, '83
Micahel Sclafani, DPT, CSCS, '13

UC Alumni Association Outstanding Alumni Award for CAHS: Judith A. Marlowe, PhD, FAAA, CCC-A '71
2014
M. Kay Brown, MSW, '71, '02
Dawn Paulson, MJ, RHIA, 09
Harrison Blackmond, AuD, 70', '71
Shareen Lee, 07'
Nancy Nevin Folino, MA, 83'
Kent Martin, 10'
2013
Sandra Tattershall, '76
Lawrence R. Suddendorf, EdD, MT, (ASCP), 71' 80', 86'
Erin Head, 10'
Jean Sepate, 83'
Nancy Emenaker, 89'
Bethany Dugan, 06'
2012
Ann W. Kummer, PhD '86
Kyle Combs, 08'
Pierce Boyne, 07'
Julie Kenniston, 10'
April Martin, 09'
Jason Roberts, 07'
2011
Distinguished Alumni
Ruth Clinton, LISW-S, 78'
Marein de Jong, PhD, 02'
Wayne A. Secord, PhD, 80'
Recent Graduate Achievement Award Recipients
Christine Schumacher, RHIA, 07'
Lynzie Schulte, DPT, 05'
Tamara J. Ward, RD, CSO, LD, 08'
2010
Distinguished Alumni
Polly A. Elmlinger, RHIA, 07'
Judith A. Hughes, BS, CNMT, 67'
Judith Marlowe, Ph.D., FAAA, 71'
Young Alumni Achievement Award Recipients
Fonnie G. Lawson, 00'
Erin A. Wagner, MS, 06'