Doctor of Physical Therapy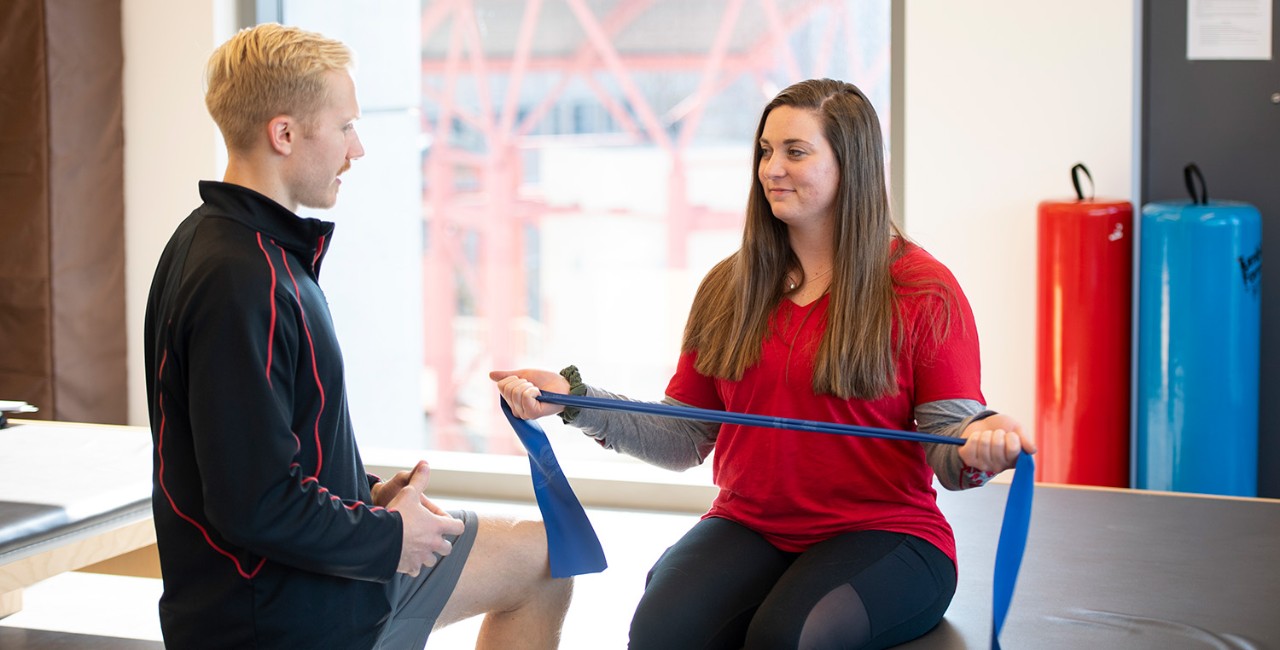 The top-ranked University of Cincinnati Doctor of Physical Therapy (DPT) program graduates students with a Doctor of Physical Therapy degree while also preparing each student for licensure and practice within the field of physical therapy.

Physical therapists are movement experts who optimize quality of life through prescribed exercise, hands-on care, and patient education.
The program's well-rounded curriculum is designed to prepare graduates who will be effective entry-level and contemporary practitioners of physical therapy in a wide variety of clinical settings. The program incorporates traditional classwork, research, and clinical experiences.  Courses may involve lecture, active lab demonstrations, course related field trips and observations at off campus sites.
Graduates of the program exceed national averages on board exam pass rates and experience a 100% employability rate.
Our clinical and research opportunities, state-of-the-art facilities, and location in Cincinnati's medical hub all add to the value of a degree from this program.
The Doctor of Physical Therapy program prepares graduates for a career as a physical therapist.
Physical therapists are allied health professionals that promotes optimal health and function through the application of scientific principles to prevent, identify, assess, correct or alleviate acute or prolonged dysfunctions. Once you graduate from a Doctor of Physical Therapy program, pass the board exam, and meet any state laws and exam that is required, you are eligible to work as a licensed Physical Therapist.
Graduates of our program find careers working with patients across the lifespan in a variety of locations including:
Outpatient clinics
Hospitals
Private Offices
Home health care
Nursing homes
Physical therapists provide care to people of all ages who have functional problems, including but not limited to:
Cardiovascular & Pulmonary Conditions (heart attack, cystic fibrosis, bypass surgery)
Integumentary Conditions (wounds, burns)
Neurological Conditions (cerebral palsy, multiple sclerosis, spinal cord injury, stroke)
Orthopedic Conditions (sprains, fractures, sports injuries, amputations, back and neck pain).
The Surgeon General recently urged physicians to battle against opioid addiction. Physical therapy is recommended as a first-line approach.
According to the Bureau of Labor Statistics, the job outlook for physical therapists is expected to grow 17% (much faster than average) and the median pay is $95,620 per year. 
The University of Cincinnati Doctor of Physical Therapy program will transition from a 9-term  to an 8-term curriculum starting with the entering class of Summer 2023. 
An 8-term curriculum will allow you to graduate and enter the workforce faster - saving you both money and time. 
This decision was made after thoughtful discussions with faculty, best practice reviews, benchmarking against other peer PT programs, and forecasting future workforce needs. We have developed a curricular model that maintains the comprehensive, successful curriculum we are proud of, while balancing rising student debt concerns, and ensuring the student, graduate and program outcomes that UC DPT program has enjoyed since its inception continue well into the future.
Review the 8-term Doctor of Physical Therapy curriculum
Upon entry into the program, students are assigned a faculty advisor.
Please visit Admission Requirements for detailed information about what you need in order to be a successful applicant.
Early Assurance Opportunities 
The DPT program offers two early admission opportunities to qualified students. High school seniors entering the UC Bachelor of Health Sciences – Pre-Physical Therapy program may apply to the High School Early Assurance Pathway and juniors may apply to the Junior Early Assurance Pathway.  Students who maintain minimum requirements for these programs have a spot reserved in the DPT program when they graduate.
No GRE Required
The University of Cincinnati Doctor of Physical Therapy program will no longer require the GRE starting with the entering class of Summer 2023. 
Credits from other Doctor of Physical Therapy programs will NOT be transferrable towards the core curriculum of the program.
Visit the How to Apply page to find information on application deadlines, where to send your materials and more.
The University of Cincinnati and all regional campuses are accredited by the Higher Learning Commission.
The Doctor of Physical Therapy program at University of Cincinnati is accredited by the Commission on Accreditation in Physical Therapy Education (CAPTE), 3030 Potomac Ave., Suite 100, Alexandria, Virginia 22305-3085; telephone (703) 706-3245; email: accreditation@apta.org; website: http://www.capteonline.org. If needing to contact the program/institution directly, please call 513-558-7767 or email physicaltherapy@uc.edu.