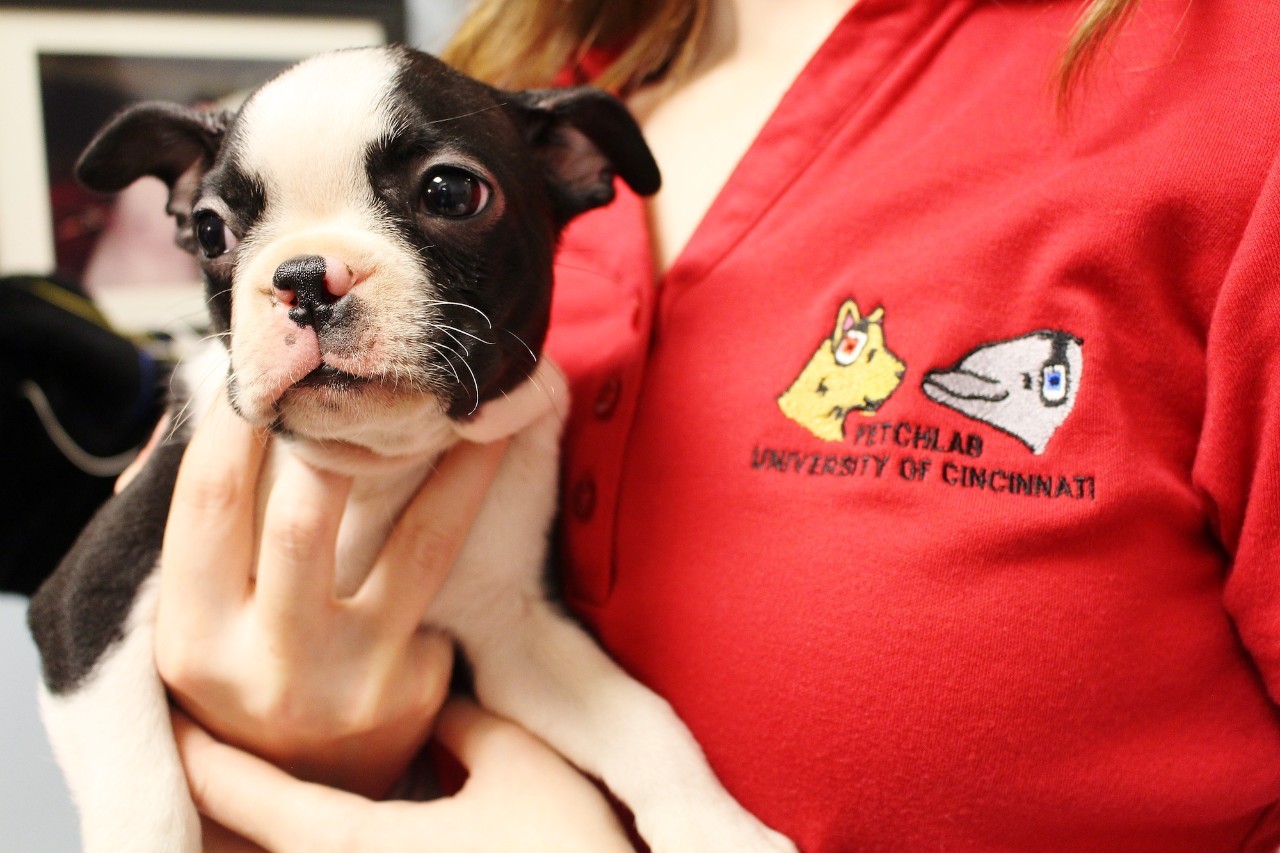 University of Cincinnati FETCHLAB is an internationally renowned animal hearing and bioacoustics laboratory. We conduct hearing screening and full audiological assessment and imaging for dogs as well as kennel and zoo/aquaria exhibit/life support system noise mapping, mitigation, and monitoring. The FETCHLAB is the first and only hearing clinic for animals in the United States capable of running full audiological diagnostic testing an analyses. We see dogs from all over the world.
FETCHLAB supports the Department of Defense with clinical and research topics on working dog post traumatic stress disorder and audiological disorders. Additionally, we support the Georgia Aquarium, Mystic Aquarium, Newport Aquarium, Adventures with Elephants (Bela Bela, South Africa) Tier 1 Animal Hosptial (Palmer, Alaska) and Indianapolis Zoo regarding auditory, sound production and noise issues with regard to their animals under professional care.
We work closely with veterinarians in the tri-state area to support them with animal audiology as a potential health care and assessment sub-specialty (animal audiology). We are currently the only place in the world where an audiologist may receive a graduate certification as an animal audiologist and where canines are fitted for canine hearing aids and hearing protection devices.
FETCHLAB consists of three sites at three universities, each with its own Director, that all function under the executive FETCHLAB site and Founder, Principal Investigator and executive Director, Dr. Peter M. "Skip" Scheifele at the University of Cincinnati. The three FETCHLAB sites are: FETCHLAB UNC at the University of Northern Colorado under the direction of Dr. Katie Bright with Co-Directors Dr. Tina M. Stoody and Dr. Jennifer E. Weber; FETCHLAB Akron under the direction of Dr. Kristine E. Sonstrom Malinowski; and UC FETCHLAB under the direction of Dr. Peter M. "Skip" Scheifele with Co-director, Dr. Laura W. Kretschmer.
FETCHLAB was founded at the University of Cincinnati in 2007.
Projects in the UC FETCHLAB are funded/ supported by contracts with various zoos, aquaria, and military grants.
Dr. Scheifele also serves as a consultant to the Georgia Aquarium, Mystic Aquarium, Newport Aquarium and the Army Research Office/Department of Defense on matters of animal audiology, bioacoustics and noise mitigation in kennels and exhibits. 
The University of Cincinnati was the first institution in the world to teach animal audiology. Learn more about the animal audiology certificate.
Canine visitors to UC FETCHLAB can receive noninvasive, diagnostic hearing testing.
FETCHLAB is based at the University of Cincinnati (UC), and in partnership with the University of Northern Colorado (UNC) and The University of Akron. UNC also operates a mobile lab in Northern Colorado.
The following current faculty and staff members are participants in this program:
Peter M. Scheifele PhD, LCDR USN (Ret.)  Professor, is the Executive Director the overall FETCHLAB™USA and Director of UC FETCHLAB. He is the primary teacher of CSD8050, CSD8099, CSD8016, practicum and team-teach CSD8020 (animal audiology). UC FETCHLAB is a University Center at UC and is his laboratory. 
John Greer Clark PhD Professor, is consultant for canine hearing management. he is a co-researcher in UC FETCHLAB.
Laura Kretschmer EdD - Professor Emeritus in the Communication Sciences and disorders department at the University of Cincinnati. Dr. Kretschmer team teaches clinical skills in animal audiology and consults on audiological assessments for puppy screening and presbycusis dogs in UC FETCHLAB.
Lesa Collins Scheifele EATM – Is a co-founder of FETCHLAB™USA and is a volunteer laboratory and clinical animal behaviorist and trainer. She teaches operant conditioning, works with exotic animals under professional care and sets protocols for owners whose dogs are fitted with canine hearing aids.
Lynette Cole DVM, MS, Diplomate ACVD - Associate Professor of Dermatology at the Ohio State University School of Veterinary Medicine. Dr. Cole specializes in diseases of the ear and teaches ear diseases in canines for the UC Animal Audiology Certificate. Dr. Cole is also a collaborator with Dr. Peter Scheifele on Primary Secretory Otitis Media (PSOM) in Cavalier King Charles Spaniels.
Jennifer Wells DVM - Director of RWC Veterinary Technician Program will oversee any practical or academic topics covered at the RWC veterinary technician program. Dr. Wells is a research collaborator in UC FETCHLAB.

FETCHLAB UNC (University of Northern Colorado) is directed by Dr. Katie Bright. Assistant Directors are: Dr. Tina Stoody and Dr. Jenny Weber.
FETCHLAB AKRON (University of Akron) is directed by Dr. Kristine E. Sonstrom.
Support for UC FETCHLAB regarding animal welfare comes from the UC IACUC, the lab animal trainer/behaviorist is Lesa Scheifele EATM, veterinary technology and technician training support is given by Jennifer Wells DVM (Director, RWC Veterinary Technician Program). Animal vocalization classification support is given by Dr. Michael Johnson, Chair of Electrical and Computer Engineering at the University of Kentucky. Marine Mammal and underwater acoustics support is provided by Dr. James Miller and Dr. Gopu Potty and the University of Rhode Island Department of Ocean Engineering. Hearing aid consultant support is Dr. Justin Burwinkel (Starkey).
UC FETCHLAB has collaborations with: The Georgia Aquarium, Newport Aquarium, Indianapolis Zoo Mystic Aquarium, Department of Defense SOCOM, Defence Science and Technology Laboratory U.K.
The UC FETCHLAB is a suite of examination rooms, computer space, and necropsy room located in the French East building on the first floor. Current research, clinical audiological and vocal diagnostic clients and teaching, research in canine hearing aids and hearing protection and communication devices are ongoing, having been established in September of 2007 by Dr. Scheifele. Department of Defense and SOCOM military work are also ongoing [CLASSIFIED]. The classes for this program are routinely taught in French East. No further spaces or facilities are required to support this program. These spaces are already compliant with animal care and use (IACUC) protocol #07-12-19-1.
FETCHLAB
University of Cincinnati, Department of Communication Sciences and Disorders
French East Building Room 115, 3202 Eden Avenue Cincinnati, OH 45267