Ultrasound Visual Biofeedback for R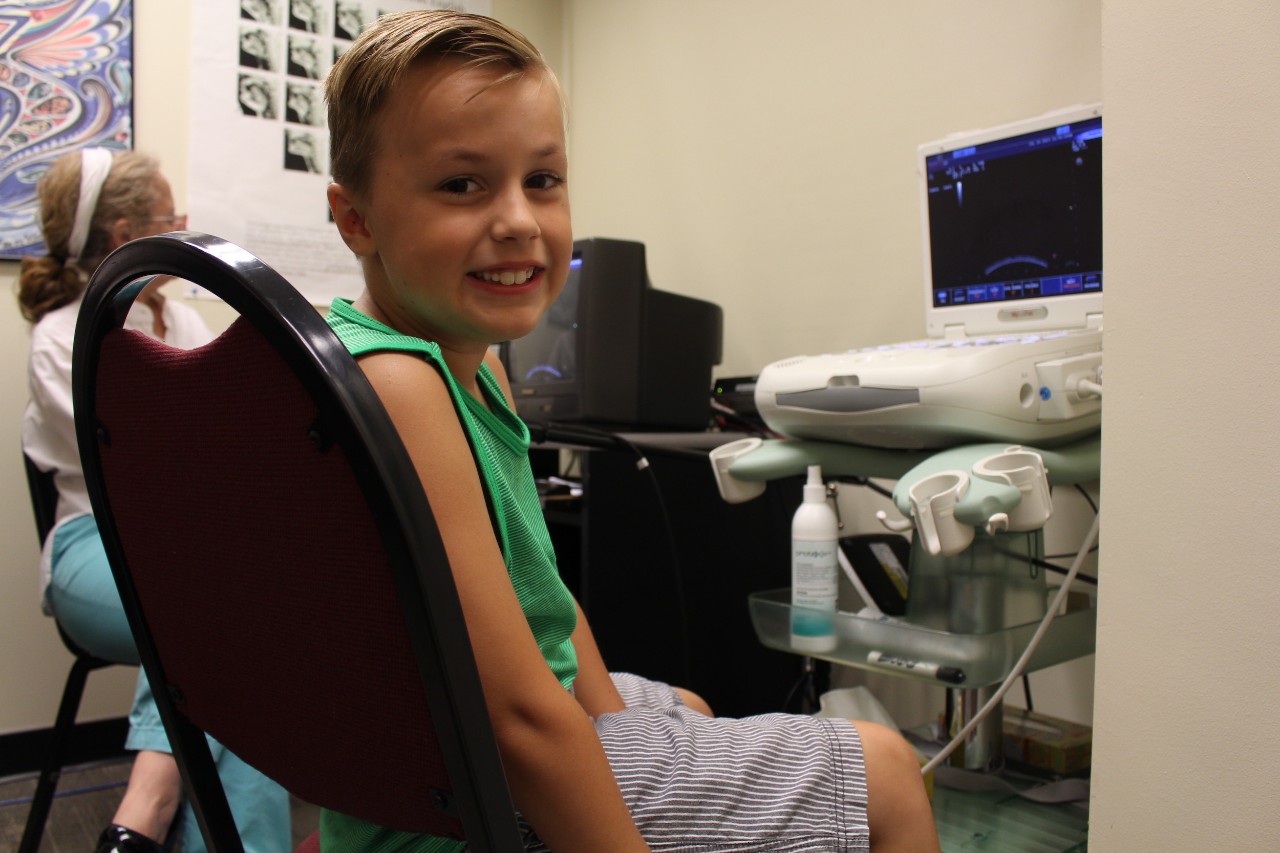 About the program: At the University of Cincinnati Speech, Language, and Hearing Clinic, we have been researching the use of ultrasound to provide our clients with visual biofeedback during articulation therapy for /r/ in isolation, words, and phrases. This technique can also be used during /l/ therapy and for remediation of lateral /s/.
During therapy, the client is seated in front of the ultrasound scanner so that he or she can look directly at the monitor. The client will place a piece of the ultrasound (the probe), with slight pressure, against the skin on the underside of his chin and "under"€ the tongue. On the monitor will be an image of the tongue from front to back. The probe can also be turned so that the view is a side-to side view. The clinician will encourage the child to say different /r/ sounds and words (e.g. "er"€). As the client watches on the monitor, the clinician can explain how parts of the tongue are moving. Therapy focuses on facilitating these correct productions in different vowel combinations and words (e.g. or, are, ear, row, rake).
Ultrasound biofeedback is not as beneficial for the sentence and conversation stages of therapy because it is difficult to judge rapid, sequential tongue movements on the monitor. Treatment can continue at this stage, however, with occasional use of the visual feedback, especially when further drill is needed for errors that were noticed in conversation.
All clients must complete our clinic's standard "R" evaluation. If this was completed in the past you do not need to repeat the standard evaluation.
Additionally, we have noted over the years that some students with "R" production difficulties also have difficulties in higher-level academic & language areas (e.g. writing, spelling, peer interactions). We will also be offering an optional in-depth assessment in these areas, in order to better help families understand the possible connections between these academic skills and "R" difficulties.
You may be asked to participate in a research study that is also running through the "R" program. Please know that you can choose not to participate in research and this will not affect any aspect of your clinical treatment.
Candidates for ultrasound-enhanced therapy are generally at least 8 years of age, have attended traditional speech therapy with minimal success, can sit and attend for 45 minutes when engaged in therapeutic activities (e.g. practicing sounds, playing simple games), can follow multi-step directions, and generally perform at or near grade level in school.
Traditional Intervention Schedule: June 4-August 3
Traditional, 9-week intervention program, 1 session per week
Two week Intensive Intervention Schedule:
Session 1: June 10 – 21
Session 2: 

June 17 – 28** Location TBD; possibly a northern suburb

Session 3: 

July 22 – August 2

2019 dates coming soon. 
Traditional once/week program
$635/9 sessions + evaluation; evaluation can be scheduled prior to starting therapy or during the first weekly session
May choose pay/session with initial evaluation at $65
The total cost for 10 sessions + evaluation is $700 ($650 if evaluation was previously completed). The evaluation can be scheduled prior to starting therapy or during the first session.
* For the intensive program, a $200 non-refundable deposit is required at the time of registration
Speech & Hearing Clinic
Department of Communication Sciences & Disorders
French East Building Room G65
Phone: 513-558-8503 | Fax: (513) 558-8988