We sat down with Elizabeth Morales - a student in UC's Accelerated Master of Athletic Training Program. She shared her experience and gave some advice for future MS AT students.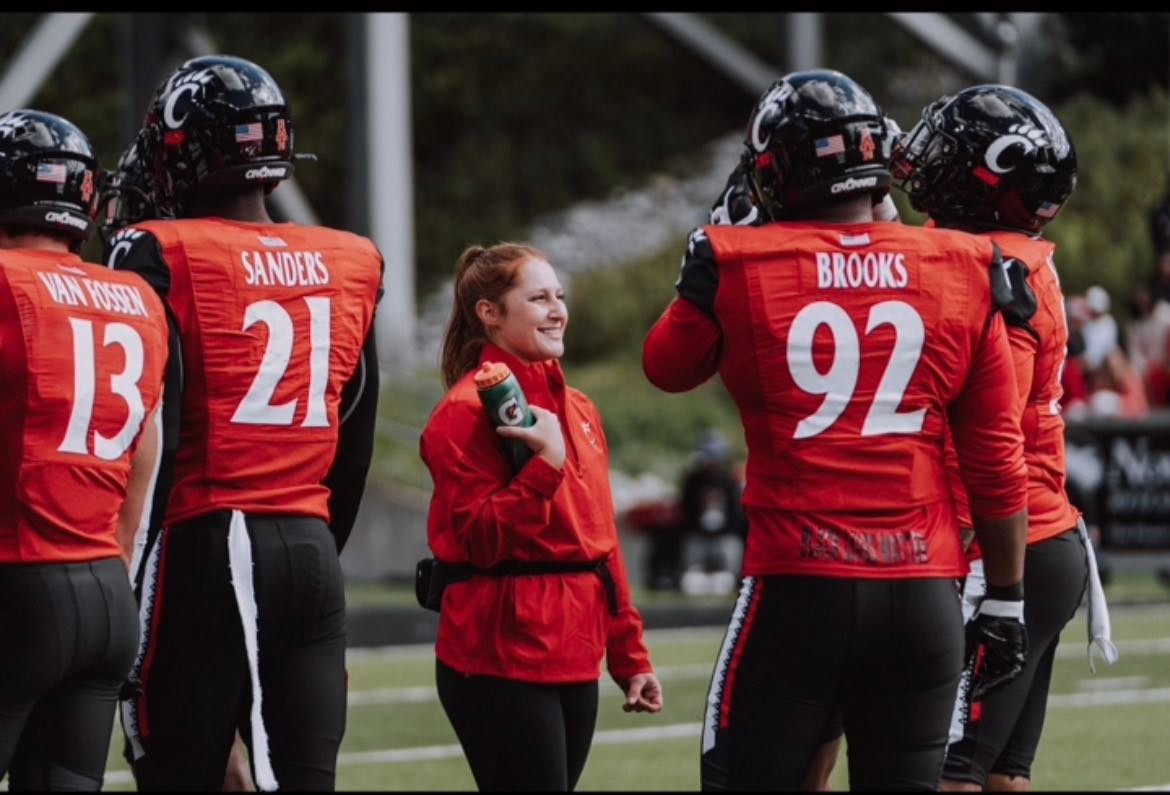 Where did you complete your undergraduate degree?
I completed my Health Sciences-Pre-Athletic Trainingdegree at the University of Cincinnati. My professors strongly encouraged me to apply for graduate school since I was constantly on the fence about it. During my undergraduate years, I was in REHABCATS ,which is a club for Athletic Training students, and worked for the UC Football team. The members of the club and the athletic trainers of the football team pushed me to apply for graduate school. In the end, it was one of the best decisions I had made. 
What steps did you take to make your application to graduate school stand out?
I compiled a lot of once-in-a-lifetime experiences onto my resume in order to help me stand out. When making my resume, I received help from my athletic training professors to ensure it was up to their standards. I was already really comfortable with the athletic training professors and asking for their support, so they knew me very well going into the graduate application process. 
What do you enjoy doing outside of class, schoolwork, and clinicals?  
Outside of school, I like to workout, bake, explore downtown Cincy, and watch shows. The student organization I am apart of is REHABCATS.
When did you know you wanted to be an Athletic Trainer? Why do you want to be in this profession? 
Coming into college, I had no idea what I wanted my career to be. I knew that I loved exercise and wanted to go into the medical field in some type of way, but never had a specific career choice in mind. During my sophomore year of college, my professor told me about the Accelerated Master's Athletic Training Program, and I decided to switch my major from Health Sciences-undecided to Health Sciences-Pre-Athletic Training. I think my sophomore year I knew I wanted to be an Athletic Trainer, due to my experience with the Athletic Trainers of UC Football. I grew up being an athlete and I loved the mental and physical determination it took to be an athlete. I want to be able to help athletes physically, emotionally, and mentally achieve their athletic goals.
What types of hands-on experiences have you been able to gain in the program?
From my time in the program, I have been able to get a lot of hands-on clinical experience. I have been able to evaluate injuries, create rehabilitation programs, tape athletes, use various modalities to help treat injuries, etc. 
Tell us about your clinical placement experience(s).
I started my first athletic training experience with the UC Football team. When I got to graduate school, my first clinical site was at Roger Bacon High School. I got to work with all types of sports and loved gaining the trust of all the high school kids. In my second semester, I was at Mount St. Joseph working with the Women's Basketball team and Men's Lacrosse team. This clinical was exciting because I gained the trust of a more guarded athlete. I was able to create their rehab program some days and walk them through it all. My current clinical site is with the Cincinnati Bengals. This clinical site has pushed me out of my comfort zone the fastest. This clinical has allowed me to see all the behind-the-scenes of being an athletic trainer for an NFL team. Lastly, this fall semester, I will be with UC Volleyball and then my final clinical in the spring, I will be at Rice University in Houston to work with the football team. 
What are your career goals?
As of right now, I'm not sure what the future holds for me. I've considered being an Athletic Trainer at a Division I university or in the NFL. I think when I graduate this spring, I'll look for seasonal internships with NFL teams, Division 1 College Football teams, or full-time positions for any sport in a collegiate setting.
How have the opportunities at UC helped to shape your career goals or view of Athletic Training as a profession? 
The opportunities that I have been given at UC have been once-in-a-lifetime experiences. I have been able to see various athletic training environments, which has influenced my future plans. Every clinical site I have been to encourages me more to go down this career path due to the uniqueness of this career. 
What impact do you hope to have in the lives of your patients or in your field? 
I hope to be an athletic trainer that my patients can trust with anything. I want my patients to feel comfortable coming to the training room, whether it is to be evaluated for an injury or just to talk. I want them to know that their mental health is just as important as their physical health when it comes to athletics. 
Anything else you would say to a prospective student that is trying to find a program that fits them the best?
I would say that it is ok to not know what career path you want to go in as soon as come to college, or even if you have been in college for a few years. It is also ok to second-guess yourself throughout the college process. Programs like the UC MS AT Program provide clinical experiences to help you determine if this is a career path you would like to go down, or if the clinical environment is a place you do or do not see yourself. From my clinical experiences, I have learned what settings I would like to work in and what settings I would not like to work in, and that is part of the learning experience.