What is a Clinical Placement?
MA SLP students engage in clinical placements/rotations beginning in their first year of the program.  Clinical placement/rotations in the MA SLP program can be compared to an internship or co-op in other fields, such as business. Students are assigned to rotations based on various factors to earn the required clock hours and clinical competencies required for graduation. These are non-paid rotations, where a licensed and credentialed SLP acts as a supervisor/mentor for the graduate student and guides them in earning the requirements for that setting. Students are required by the program accrediting body to fulfill clinical placements in a variety of settings to ensure they have met competency to work in the setting of their choice upon graduation.
All MA SLP programs follow a clinical placement curriculum outline, which indicates the approximate clinical hours expected each semester of the program. Clinical placements are paired with coursework throughout the program. Each semester in the program, the clinical hour expectation builds, and the coursework load decreases. Students can expect to participate in a variety of settings during their program, including educational and medical settings.
Students in MA SLP programs at UC engage in a variety of clinical placements providing services, resources, and advocacy for individuals who experience communication challenges. Students have numerous opportunities throughout their program to explore specific clinical interests and preferences. These relationships enhance our program's ability to personalized placements and cultivate successful clinical supervisor relationships and performance.
Students in our program have the opportunity to interact with and learn how to equitably treat people from diverse backgrounds and various stages of life. The rich geographic and demographic composition of the Greater Cincinnati Region paired with the extensive outreach of our online programs provides a collection of clinical placement options in urban, suburban, rural, and international settings, for on-campus and local online students. 
Clinical opportunities encompass: 
The UC Speech and Hearing Clinic is our in-house clinic which services pediatric and adult clients with various communication needs and extends to collaborations with other campus departments and community settings. 
Clinical Simulation is embedded into our didactic coursework and clinical practicum to further enhance the clinical training and meet the needs of our students. 
Faculty research labs provide an extension of coursework with more hands-on exposure to research and instrumentation prior to/concurrently with clinical placements to assist students in the clinical application of their knowledge base
Traineeships produce opportunities to apply and interview for clinical traineeships with specific populations and/or in clinical settings that will take place during their final year in the MA SLP program. Traineeships occur early in clinical year 1 so students can make decisions and engage in the process for application.
External placements are incorporated to provide well-rounded exposure to many facets of clinical application during the final year in the MA SLP program. These placements occur in schools, medical settings, private practices, and clinics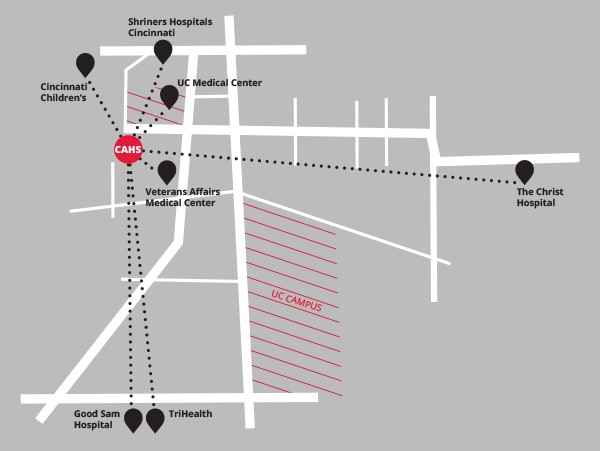 At UC, we boast our unique location on the medical campus in the Health Sciences Building, adjacent to UC Health, Cincinnati Children's Hospital, and Veteran's Administration Medical Center, along with our presence within the Academic Health Center, where we routinely partner with the Colleges of Medicine, Nursing and Pharmacy, and collaborate within our own College of Allied Health Sciences. The distinct and shared clinical experience of our faculty and clinical partners combined with the array of student clinical opportunities makes UC an excellent choice to obtain a specialized, unmatched, clinical training experience.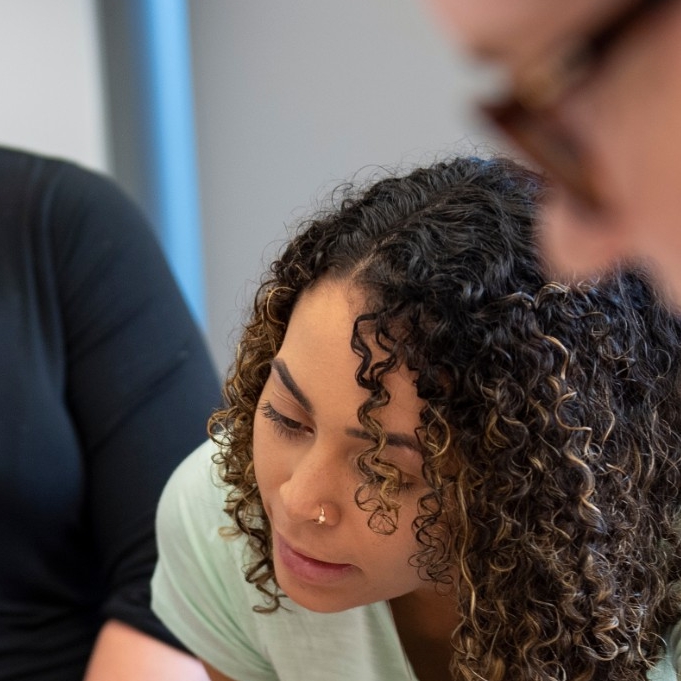 Department of Communication Sciences and Disorders
College of Allied Health Sciences
3225 Eden Avenue P.O. Box 670379 | Cincinnati, OH 45267