Frequently Asked Question's (FAQ's) for the MA in Speech-Language Pathology - Online program 
Applications for our 2025 cohort will not require to submit GRE scores for admission.
At this time, the answer is unfortunately no. We cannot support our current supervision model for locations beyond four hours.
Deadlines and live chats are scheduled according to Eastern Standard Time (EST).  Students who live in other time zones must be prepared to adjust their schedules to ensure they are able to accommodate all program requirements.
All academic courses in this program are asynchronous, meaning the lectures and material are often recorded and available for you to view at a time that fits your schedule; however, some of the material may also be delivered through a "live" class chat which you are expected to attend, which are generally scheduled during evening hours based on Eastern Standard TIme (EST). Although asynchronous, students will be expected to meet all deadlines for assignments and exams as assigned which are according to EST.  All courses are formatted on an instructor-specific basis.  Instructors are readily avialable via email and are typically willing to schedule web or telephone meetings when requested.
The MA Online program is eight semesters. It starts every January with the spring semester and students will graduate two calendar years later following completing of the summer semester. 
Currently the MA Online program is designed to be a part-time program. Generally speaking, students take two content/disorders courses (e.g. voice, dysarthria) and a practicum or seminar each semester. There is clinical work associated with the practicum courses.
You cannot work full time for the duration of the program and complete the necessary clinical hours to complete the program. Additionally, many of our students report it is difficult to balance the academic curriculum with a full time job.
In the first two semesters there are no clinical placements. Starting in fall semester of the first year students are placed in clinic ½ day to one full day per week. Having a job that can give you this type of flexibility is highly beneficial. This timeline lasts until the fall semester of the 3rd year. If possible, additional availability in the second summer semester is helpful. In the final three semesters, students must be available a minimum of three days per week but some sites require four - five days of availability.
Please note: clinical placements are during traditional working hours, generally 8 am to 5 pm but some placements end as early at 3:00 pm.
The admissions committee reviews all aspects of the application. While this certainly includes previous GPAs, we also consider GRE scores, employment history and fields, and grades in prerequisite courses. Recent completion of prerequisite courses with a strong performance (A, A- grades) will be beneficial to the application. Additionally, retaking prerequisite courses in which grades below a B- and achieving higher grades will also benefit your application. Although these are recommendations, they do not guarantee admission to the program.
Please note: the graduate school requires a 3.0 GPA for admission.
Generally, we have three - four applications for every admission slot in the program. Our most recent cohort had an average undergraduate GPA of 3.4 and GRE scores of 148 verbal, 149 analytical, and 4.0 writing.
The short answer is yes, providing we can find appropriate supervision and you have the support of your current employer. We encourage you to discuss this with your employer prior to applying if you intended to maintain your employment.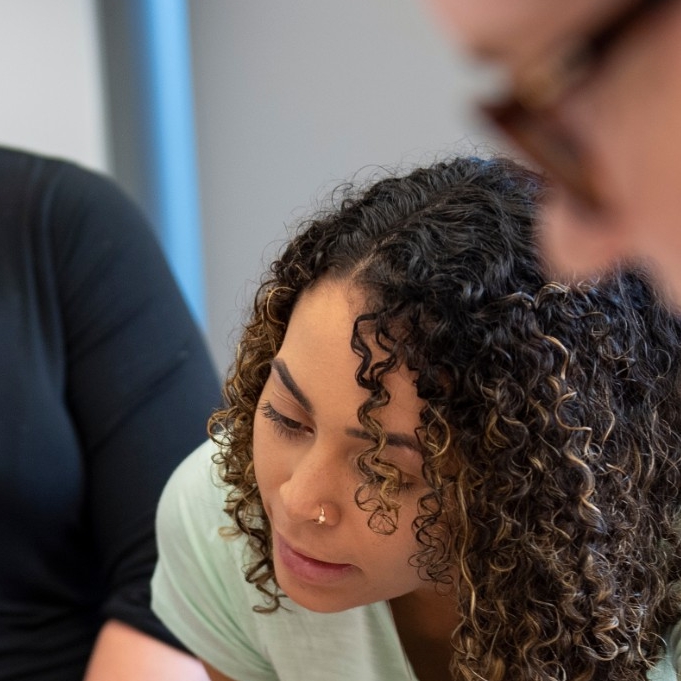 Department of Communication Sciences and Disorders
College of Allied Health Sciences
3225 Eden Avenue P.O. Box 670379 | Cincinnati, OH 45267