We sat down with Alexandra Mabley - a student in the Doctor of Audiology program at UC  She shared her experience and gave some advice for future AuD students.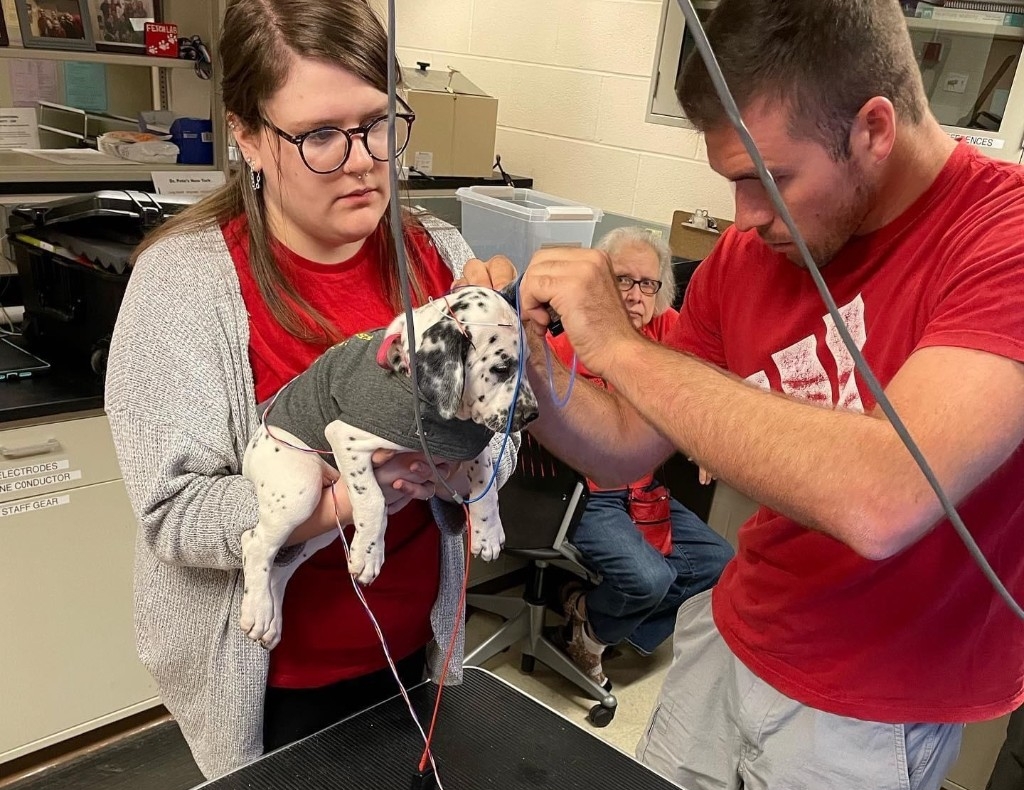 What steps did you take to make your application to graduate school stand out?
On CSDCAS questions, I made sure that my answers were honest, thorough, and well written. I had great relationships with undergraduate professors who were able and willing to write letters of recommendation for me. They were also willing to review my personal statement and discuss possible weak points within it.
What do you enjoy doing outside of class, schoolwork, and clinical?
It is so important to make time for fun while in grad school. I could and should be better about this. I enjoy crocheting, walking my dog, playing video games, being with friends, and now I'm planning a wedding with my fiancé. I am a part of UC's Student Academy of Audiology and function as UC's student liaison with the Ohio Academy of Audiology.
When did you know you wanted to be an Audiologist?
I originally went to school for pre-veterinary medicine. I struggled to find my place in undergrad. A volunteer opportunity at a crisis hotline for the Deaf (DeafLEAD) in central Missouri opened the door to American Sign Language for me. Once I interacted with the language and culture, I knew working with people with hearing loss was my ultimate goal. Audiology provided the medical and scientific opportunities I love in addition to working with those with hearing loss
What types of hands-on experiences have you been able to gain in the program?
The program has provided me with ample opportunities for hands-on work. UC's speech and hearing clinic allowed me to build skills in patient interaction, hearing aids, and diagnostic testing. Our clinical coordinator spends a lot of time placing us where we will do well for off-site placements.
I've participated in volunteer work with geriatric patients, pediatrics, underserved communities, and at the Special Olympics. I have been privileged enough to go on the Mexico service trip in collaboration with the Palace Foundation in Cancún twice. Volunteer experiences have been invaluable to me, as facilitating appointments and relationships in less-than-ideal conditions teaches you how to think on your feet. The experience of providing healthcare to someone in need is unlike any other. 
We start our Capstones this semester, so I'm looking forward to more in-depth research! 
Tell us about your clinical placement experience(s). Where are they or where have they been?
I spent a year in UC's clinic here in The College of Allied Health Sciences. This time was formative for me and my peers. My first off-site placement was at UC Health - Gardner Neuroscience Institute right across the street from CAHS. I loved GNI and it was helpful to see how an ENT audiologist works. This fall I will be placed at Dayton Children's Hospital and I'm excited for that.
What are your career goals?
I hope to work as a clinical audiologist in a medical setting. I have a particular interest in ototoxicity monitoring protocol and working with patients receiving those medications. One day I would like to be in audiology leadership at a state or national level. Academia is something I'm interested in as well.
How have the opportunities at UC helped to shape your career goals or view of Audiology as a profession?
I have excellent role models in my professors. Each of them has provided insight into the profession that has shaped my view of audiology while still allowing me to find my own preferences and opinions. Beyond the classroom, the program has instilled confidence in me. I feel that I can enter a clinical space with adequate skills. When I do fall or need additional support, I know I have a soft place to land with peers and instructors. I'll take that built confidence with me throughout my education and career.
What impact do you hope to have in the lives of your patients or in your field? 
Many of our patients struggle with their mental health as a result of the psychosocial impacts of hearing or balance loss. I hope to mitigate that as much as I can. Above all, a positive impact is most important to me.
Anything else you would say to a prospective student that is trying to find a program that fits them the best? 
Talk to current students about their experiences. Ask about additional opportunities. Wherever you get in and wherever you go, have a positive attitude and trust that you are right where you're meant to be.