We sat down with Brenden Benjamin - a student in UC's Doctor of Physical Therapy program. He shared his experience and gave some advice for future DPT students.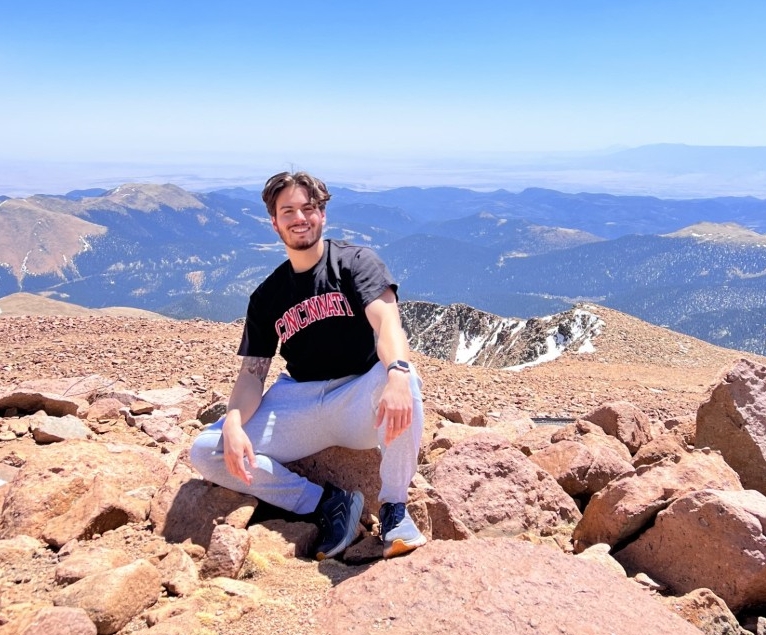 Where did you complete your undergraduate degree?
I attended Northern Kentucky University where I received my bachelor's degree in athletic training.
What steps did you take to make your application to graduate school stand out?
During my undergraduate career, I participated in several organizations, charitable and community service projects, and extracurricular activities. In addition to this, I actively pursued leadership positions on campus. I believe showing the ability to take on responsibility while maintaining academic success was important because graduate school requires sufficient time management abilities.

I also attempted to shadow many physical therapists who worked in various fields. Since physical therapy is a growing profession, gaining experience in a variety of areas demonstrates an understanding of the profession as a whole.
Lastly, I discussed why I would make an excellent physical therapist in the future using all of my prior experiences, responsibilities, and opportunities. I demonstrated my ability as a student and my moral values, and how those traits will serve me well as a physical therapist in the future.
What do you enjoy doing outside of class, schoolwork, and clinical?  
Outside of class, I like spending time with my friends and participating in a variety of outdoor activities. One of my best memories from my first year of physical therapy school is when our class organized a coed flag football team, and we were lucky enough to win the intramural championship. In addition, one of my favorite aspects of attending class is playing "hacky sack" with my cohort during our breaks between classes. Apart from all of these things, I like to cook and bake, be outdoors, and spend time with friends.
I currently hold a position in the UC DPT Student Organization. Right now, I serve as one of our class representatives. As a class representative, I act as a liaison between faculty and our cohort, assist in the planning of program activities, and oversee the organization of our annual Physical Therapy Gala, which serves as a celebration of all the accomplishments made by our teachers, staff, and students during the course of the year.

When did you know you wanted to be a Physical Therapist?
I've been fascinated by how the human body works since I was a child. As I was learning about various rehabilitation specialties during my undergraduate studies, I was certain that I wanted to become a physical therapist. In contrast to other healthcare professions, physical therapy appealed to me because it balances both biopsychosocial factors and the rehabilitative process. Physical therapists have the opportunity to accompany their patients on their rehabilitation journey, and a variety of variables contribute to their recovery. I appreciated the mix of the social, psychological, and physical aspects of the physical therapy profession. In the end, I selected this profession to empower people to take control of their circumstances by utilizing movement as the vehicle that will help them improve.
What types of hands-on experiences have you been able to gain in the program?
I recently completed my first clinical experience, during which I had the opportunity to provide outpatient care for eight weeks. Being able to complete the first clinical experience early in the program helped me to understand how the content we studied in the first year applied to the clinic. This will further shape my learning because the viewpoint I now have heading into future classes is enhanced because I understand some of the nuances of clinical applications.
Along with this, I'm beginning my special topics course, where I'll work with adaptive sports. This excites me especially because, although working with athletes during my undergraduate studies, I had little exposure to the world of adaptive sports. This is a fantastic opportunity since I will be able to assist those who would not ordinarily be able to engage in recreational sports, and I am looking forward to joining this expanding community. Other classmates of mine are using their special topics course to become certified in Pilates, participate in research, and enhance their manual therapy skills, among many other things.

Tell us about your clinical placement experience(s). Where are they or where have they been? 
I completed the first of four clinical experiences at Benchmark Physical Therapy in Union, Kentucky. I learned a ton from utilizing all the knowledge I gained in class and applying it to real-world circumstances. It was fulfilling to treat patients and assist them in becoming better versions of themselves, and it keeps me focused on why I want to work in this profession. I often assisted patients in achieving their goals, allowing them to go back to the activities that brought them joy. Being able to see their excitement made me appreciate all of the time I spent studying because, at the end of the day, we want to be physical therapists to help others.
What are your career goals?
Currently, I would like to work in the neurological setting of physical therapy. One day, I hope to be able to deal with individuals who have neurological conditions by earning my Neurologic Specialist Certification. I want to work in this field since I think the ability to move is one of the greatest gifts that we have as humans. Therefore, it would be immensely fulfilling to be able to assist others in resuming activities like walking or being able to stand and hug their loved ones, and I want to one day be able to impact others to such a degree.
How have the opportunities at UC helped to shape your career goals or view of PT as a profession?
The instructors and staff have contributed significantly to fostering my education and developing my ways of thinking. Prior to graduate school, I believe I primarily thought about the biological and physical aspects of physical therapy, but they have done a lot to make me aware of how important the psychological aspects are to a patient's rehabilitation. Many times, our lecturers have urged us to consider the viewpoint of the patient and the social, economic, and psychological effects of a condition. Additionally, several presentations have been presented to us demonstrating the disparities in healthcare in low-income or economically deprived communities. Also, we have been taught the value of self-reflection throughout my time here, and it has been essential to my learning. The constant prompting for self-reflection has taught me how to take charge of my learning, and I think these self-reflection practices will follow me throughout my professional career.
What impact do you hope to have in the lives of your patients or in your field? 
At the end of the day, I hope that my influence on a patient's life is positive, whether this influence is merely a result of the conversations we have while we are together or the goals I might be able to assist them in achieving. Whether it comes from being able to walk again after an injury or a conversation we had during a visit that changed the way they perceive setbacks in life, I hope the influence I make, no matter how tiny, will linger with the patient throughout their lives. I will be happy knowing that I was able to assist the patient if the effect I am having on them is something they may one day be grateful for.
Anything else you would say to a prospective student that is trying to find a program that fits them the best?
I  am continually grateful to be a part of the UC physical therapy program. I've developed relationships through this program that will last beyond my time as a student. If you have a question or just want to chat about something unrelated to physical therapy, the staff, and professors are always available to help. I think this school does a terrific job of developing individuals who will be empathetic toward patients and think critically. I am appreciative of the sense of community and family that this program promotes. There have been several occasions when difficult circumstances have befallen a professor or a student, and everyone in this program has always been there to support one another. I firmly believe that this school does an excellent job of producing physical therapists as well as individuals who will continue to have an influence on the communities in which they serve. This program will be a fantastic fit for you if you're seeking a place that will provide you with the skills to develop into the greatest version of yourself while creating connections that go beyond the boundaries of physical therapy.