We sat down with Maria Zarick - a student in UC's online Speech-Language Pathology program. She shared her experience and gave some advice for future SLP students.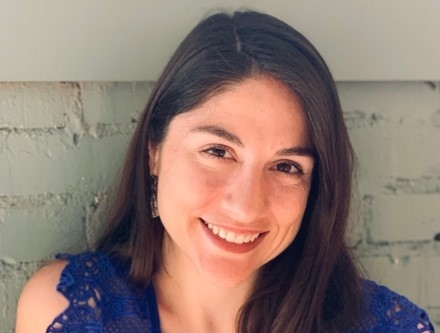 What are your career goals?
I am currently interested in working in the schools! I was recently hired by the Hamilton County Educational Service Center for the 2023-2024 school and am very excited to start this August! I also plan to continue learning more about children with opioid exposure, children with autism, and multicultural/multidialectal children. 
How has UC helped you in achieving those goals?  
UC has connected me to wonderful SLP's all over the city, in various settings, through my clinical experiences and classes. I have been privileged to work in diverse settings and with a variety of clients to gain knowledge in areas I didn't know anything about! Also, being a part of the PEPOpE program opened my eyes to a whole new side of clientele that we may be knowingly or unknowingly working with as SLP's (e.g. children who were exposed to opioids prenatally). I gained so much great information from those extra classes with Dr. Raisor-Becker, Professor Boone, Dr. Redle, and Professor Kennedy! 
What types of hands-on experiences have you been able to gain in the program?  
My clinical experiences have all been great! Additionally, I was able to sign up for a one-day observation at one of UC's medical clinics, which is normally not available to outside observers. This gave me a great idea of what it would be like to work in the medical setting and helped prepare me for my own medical placement in Long Term Acute Care, where I am currently placed. 
Tell us about your clinical placement experience(s). Where are they and how have they been?
My clinical placements have been mostly with kids because that is my focus. I gained a ton of insight from all of them, but my favorite was probably working at Latonia Elementary. I really like the structure of the schools, the ages, working with kids in small groups and individually, and having staff from other disciplines to bounce ideas off of. Here is the list of all of my placements and the types of clients I saw:
Hearing, Speech and Deaf Center (Clifton, OH): community clinic—voice, AAC, speech, expressive/receptive language, autism; children and adults
ABC Pediatric Therapy (West Chester, OH): community clinic—speech, expressive/receptive language, some feeding (mostly evals, no study equipment though), AAC, autism, down syndrome; mostly young kids ages 2.5-8 years old, lots of intervention for expressive delays of the young ones
Hamilton County Developmental and Disabilities Services-Early Intervention (in-home care, Hamilton County, OH): expressive/receptive language, autism, lots of initial evaluations with a team; birth-3 years old --If you like littles, this is the placement for you! So cute!
Latonia Elementary (Latonia, KY): expressive/receptive language, autism, ADD/ADHD, AAC, speech, small group, and individual treatment; low socio-economic area, open concept school, Kindergarten-5th grade
Loveland Intermediate (Loveland, OH): expressive/receptive language, autism, ADD/ADHD, AAC, speech, down syndrome, low-incidence diseases/multiple disabilities, small group and individual treatment; middle-high socioeconomic area, has resource rooms for low-incidence students, lots of opportunities for co-treats with OT, 5th and 6th grade
UC's Daniel Drake Center - Long Term Acute Care Floor (Hartwell, OH): swallowing/feeding, lots of modified barium studies with the radiology department, trach care, cognition, aphasia, voice, stroke; adults—mostly older (60's-70's) —Word to the wise, this placement requires having a tough stomach and a good poker face at times, but can also be extremely rewarding. If you are interested in swallowing at all, this would be a great placement for you!
What do you like about the online nature/part-time curriculum of the program?
UC's online program with Akron allowed me to continue working part-time in my previous career, which helped offset costs of grad school and ease transitioning between careers for me. I personally liked the flexibility of being able to watch lectures whenever I had the time. I also liked being able to work at my own pace for some classes, or work ahead in the course, depending on the layout. 
Anything else you would say to a prospective student who was once in your shoes?
To anyone who is planning on working with kids of any age, I highly recommend applying for the PEPOpE program/scholarship opportunity! I learned so much practical information about working with families and children at all levels of development, especially in the early years. You don't need to know anything about the opioid epidemic to apply—they'll teach you! I feel this also gave me a leg up in interviews, as it was something special I could bring up and talk about. 
I also really enjoyed that the program consists of students and professors across disciplines. You can tell that the professors are all passionate about their fields and so are the students! Participating in the program really opened up my eyes to how we are all affected by the opioid epidemic and how we, as clinicians, can help be a part of the solution in our communities. Definitely worth applying for!