We sat down with Javana Joyce - a student in UC's Master of Social Work program. She shared her experience and gave some advice for future MSW students.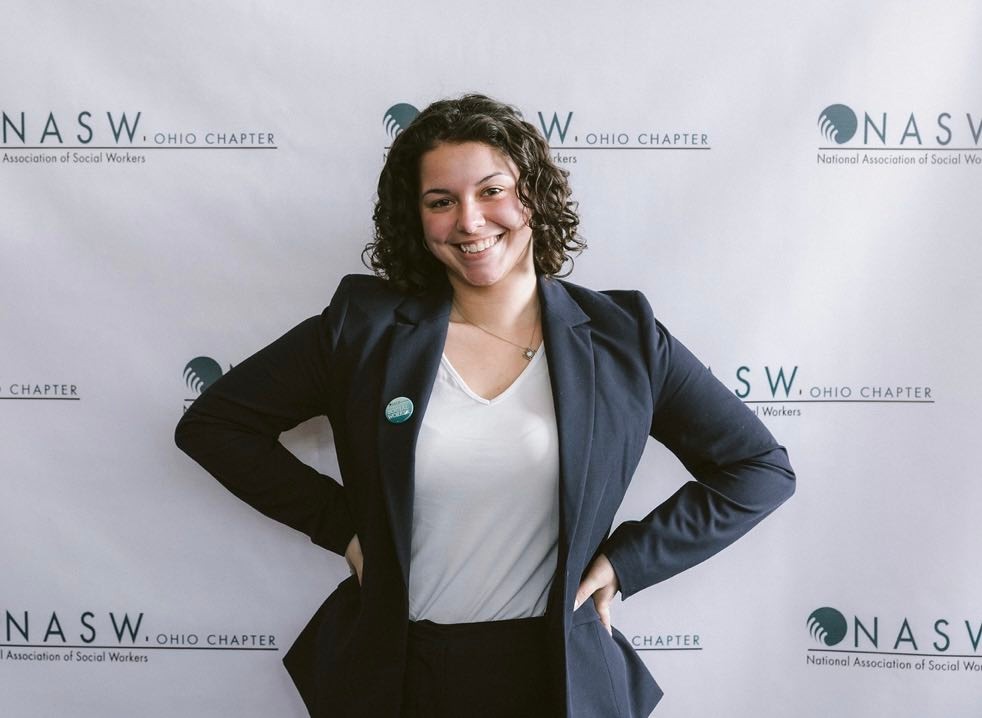 Where did you complete your undergraduate degree?
I completed my undergraduate degree at the amazing Bowling Green State University in Bowling Green, OH. And yes, we did the orange-brown colors before the Browns, they stole it from us!
What steps did you take to make your application to graduate school stand out?
I was heavily involved in undergrad, not for solely the purpose to make my application stand out, but because I was passionate about the things I dedicated my time to. I feel this is the key to making your graduate school application stand out; don't just join a ton of organizations for quantity on a resume, choose a few things you genuinely love to do and dedicate yourself to those. The passion will shine through the actions you take and how you talk about those involvements. Additionally, I leaned on my support – mentors, colleagues, peers – to help me through the process.
What do you enjoy doing outside of class, schoolwork, and clinical?
Outside of class, schoolwork, and my placement I love to cook and challenge myself to one new recipe a week. I also joined a local book club in the Cincinnati/Covington area to attempt to get to know the area a bit better (I am originally from Columbus) and to keep up with leisure reading, and not just textbooks.
When did you know you wanted to be a Social Worker?
As cliché as it sounds, from the moment people have been asking me "What do you want to be when you grow up?", I have always wanted to be within the helping professions. Psychology was my initial answer, however, in my senior year of high school when I found out that social workers make up the majority of the behavioral health workforce I was intrigued. What drew me to social work specifically was the emphasis on social justice, serving society's most vulnerable populations, and the profession's holistic view of people's well-being. People's issues do not exist in a vacuum, and I want to be a part of a profession that recognizes the impact that systemic oppression has on clients.
You are a research assistant and a Yates Fellow - Can you reflect on the role UC's MSW program has played in connecting you to these opportunities?
When I first met Dr. Harley, she spoke highly of the UC Social Work program's mission to ensure their students were supported, and she meant it. After our first meeting, she followed up with links to a variety of fellowships, scholarships, and other opportunities that fit my identity, background, and interests. She encouraged me to apply and for the ones that needed program backing, offered herself to be the person who helped me with whatever I needed to receive funding. She and the entire MSW program followed through on their promise to support me, and I was accepted into the Albert C. Yates Fellowship program, which offered me full funding and more in pursuit of my graduate studies. As for being a research assistant, Dr. Harley reached out a little while later because we had established some rapport through the process of applying for the Yates Fellowship, and interviewed me to be her own research assistant – which is how I have the position now. I am beyond excited to begin my role within both of these opportunities this upcoming semester!
Tell us about your clinical placement experience(s). Where are they or where have they been?
My clinical placement is with the University of Dayton Counseling Center. This upcoming semester I will help run two groups – one more educational and one focused on support/processing for students of color – and I will have a clinical caseload of my own. It is an amazing place to be growing as a clinician, they truly support their trainees by creating a welcoming environment.
What are your career goals? 
My current career goal upon graduation in April 2024 is to begin working towards and obtaining my independent clinical licensure to be a licensed independent social worker (LISW), which is one step up from the license I currently have as a licensed social worker (LSW). I plan to work at an agency that serves clients struggling with both mental health and addiction/substance use disorders and would love to work somewhere eventually that serves primarily LGBTQIA+ youth and young adults. Additionally, I want to use the macro skills I have learned to further social justice initiatives in the community I live and work in. Ultimately, one day with lots of experience under my belt, I hope to give back to the social work profession by becoming a professor and sharing my experiences with future social workers in hopes I can make an impact on them as my professors have done for me.
How have the opportunities at UC helped to shape your career goals or view of Social Work as a profession? 
Eventually, I plan to pursue a doctoral degree so UC providing me the opportunity to be in the Albert C. Yates Fellowship Program, Bear-CAT Fellowship, and being a research assistant sets me up quite well for this goal.
What impact do you hope to have in the lives of your patients or in your field? 
The impact I hope to have in the lives of my clients is empowerment. Social workers' jobs are to uplift those they serve and to show their clients that with some work, they can discover their strengths that have always been here and shape their lives into whatever they hope for. Additionally, I wish for my clients to feel seen, heard, and believed – too often we as a society dismiss the very real and debilitating mental health and addiction issues people face, or simply act as if these individuals do not exist. It is my mission to simply listen, understand, and truly see my clients for the people they are, and wish to be.
Anything else you would say to a prospective student that is trying to find a program that fits them the best?
The advice I would give to a prospective student trying to find the right fit for them would be to follow where you are supported most. I am a first-generation college student, so it was important to me that the institution I would go to would value that and offer me resources. There is a program out there for you that has what you are looking for; do not be afraid to come in with a list of questions and ask them all, the right program will value your eagerness, and match it. Never forget that you bring your own unique set of talents to enrich and add value to a program, just as much as you expect to get out of it. Never settle for a program that does not celebrate your uniqueness and what you're bringing.