We sat down with  Esha Kothari - a student in UC's Pre-Occupational Therapy Program. She shared her experience and gave some advice for Pre-AT's future bearcats.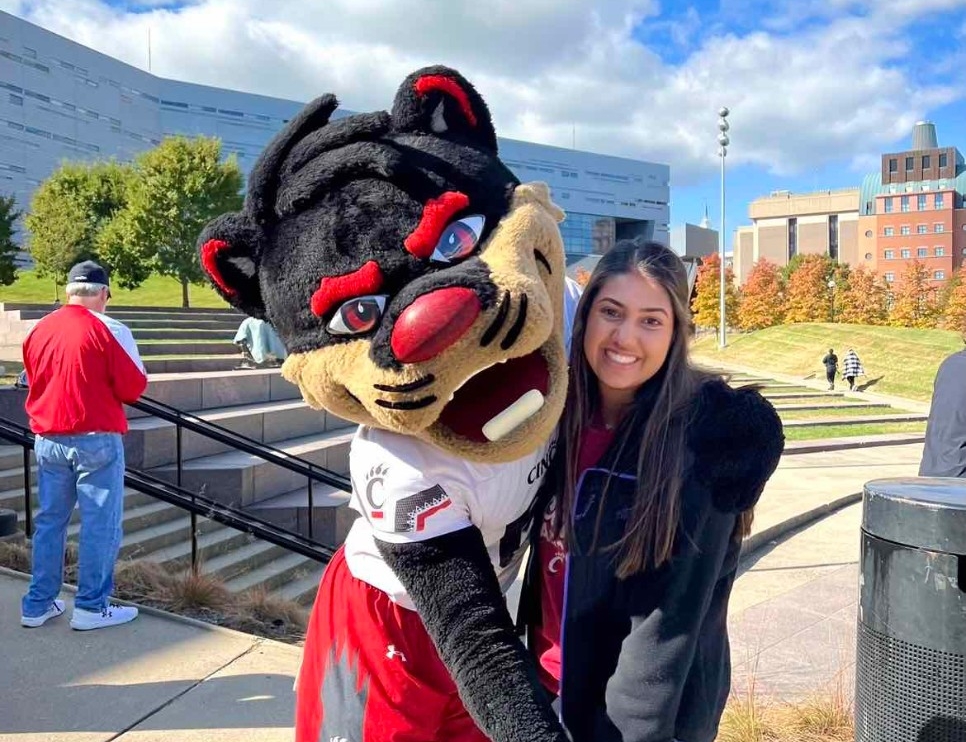 What do you enjoy doing outside of class, schoolwork, work, observation, etc.?
Outside of school, I enjoy yoga, listening to music, working out, and cooking/baking. I also love spending time with friends by attending football games, walking around campus, or catching a beautiful Cincinnati sunset. 
I am involved in a few organizations on campus. The first one being, UC CHAARG. CHAARG is an organization focused on promoting health, wellness, and fitness for college-aged students. I was elected President of this organization for this upcoming school year and I couldn't be more excited. This organization has allowed me to build friendships, memories and participate in a welcoming community. 
I have also been involved in an organization that hosts Bollywood Dance Competition each year called Midwest Dhamaka. This past year I was a Staff member during the weekend of the competition. My role was to assist other members of the competition team to help facilitate a smooth event. My experience in this organization has been very positive, allowing me to connect with others. 

Additionally, I am involved in Pre-Occupational Therapy Club as a member. The goal of this club is to facilitate networking, community building, and gaining resources with their experience in the Pre-OT program. 
What are your career goals and why?
My career goal is to primarily become an Occupational Therapist. After gaining my undergraduate degree, I will attend graduate school for Occupational Therapy. Through my time at UC, I have found a passion for Integrative Health and Wellness in addition to Yoga. I hope to one day integrate these passions into my work as an Occupational Therapist. 
What types of hands-on experiences have you been able to gain in the program?
During my third year, I took an Introduction to Occupational Therapy Course taught by Professor Lori McAleer. This was the most valuable course I have taken at UC, as it gave me a foundation on the profession including the good, bad, and ugly of Occupational Therapy. I also had the opportunity to hear from guest speakers, collaborate with peers in the program, and work on projects to enhance my understanding of this field. 
How have the UC opportunities shaped your career goals or view of the profession?
I have found some of my biggest interests through participation in various student organizations and the Pre-OT curriculum. UC has connected me to shadowing opportunities which have allowed me to gain unique experiences and views into OT as it is very broad. I have shadowed at UC Health, Optometry Clinic, a Preschool, and a center that makes custom prosthetics for people with upper extremity limitations. I have found an interest in Integrative Health and Wellness which is a more holistic approach to healthcare. By combining my interests in OT and Integrative health, I hope to be able to create my own niche area in this field eventually. 
What impact do you hope to have in the lives of your patients or in your field? 
As a future Occupational Therapist, I hope to help my patients be able to complete the mundane tasks of everyday living which many take for granted. These vital skills allow us to connect with the world around us. Occupational Therapy gives back to people, allowing them to gain a sense of independence, meaning, and fulfillment. As an OT, I want to encourage individuals that a diagnosis isn't a barrier, but rather a way to experience life through a different lens. 
Is there any advice you would give a prospective student?
I would say to immerse yourself in as many experiences as possible. Find ways to network and connect early on in your college experience. This will allow you to find your biggest passions and create your own unique pathway in the world. UC has so many resources available to help facilitate building your community on campus.