We sat down with Grace Allen - a student in UC's Pre-Physical Therapy Program. She shared her experience and gave some advice for Pre-PT's future bearcats.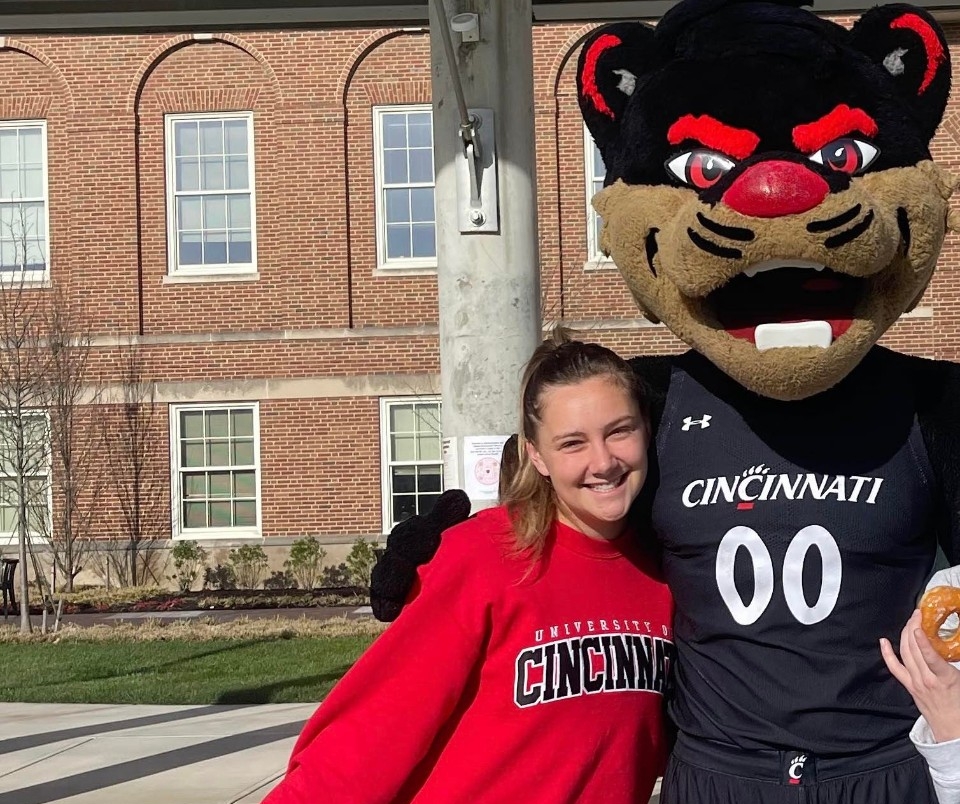 What do you enjoy doing outside of class, schoolwork, and clinical? 
Outside of the classroom, I'm very involved on campus and in many clubs that I mention below. I also like to hang out with my roommates and classmates that I've bonded with. We often get dinner together, have game nights, travel together, and go to concerts/events together! 

I am also very involved in student organizations. I am an ambassador for CAHS, I am an ambassador for the admissions office on main campus as well as a roar tour guide so I give tours to prospective students. I am also in a couple of clubs like the Pre-PT club where we can hang out with other undergrad PT majors and get to know each other more and also the Taylor Swift Club! For me, getting very involved on both main and med campus was the most impactful thing I did. It was my way to be social and find my hobbies outside of the classroom. 
When did you know you wanted to be a Physical Therapist?
I grew up playing the violin. When I got to my sophomore year of high school, I decided it wasn't my passion anymore. My mom made a deal with me that if she'd let me quit violin, then I had to take a hard class to make up for it. I decided on Anatomy. That year, I fell in love with the body and all the bones, muscles, and functions. I thought it was so unique and like no other science class I had ever taken before. I specifically loved the muscles, so I researched some jobs that focused on anatomy & muscles and landed on PT! I've loved it ever since. 

What types of hands-on experiences have you been able to gain in the program?
The labs I've been able to take through this program have been very eye opening and hands on. I think they've given me a perfect sense of what it's going to be like to be a PT. When comparing the labs we do in class to the places I've shadowed at (for observation hours), I see so many similarities. We are learning such valuable and accurate information that I know i'll use in my future career. 

How have the opportunities at UC helped to shape your career goals or view of the profession?
UC has put PT in such a positive light. Coming into college, I really didn't know what a Physical Therapist did - I just knew it sounded fun and interesting. After being in this program for only a year, I could tell you exactly what my future would look like. They've laid it out for me very nicely while also giving me room to grow and explore. They've informed me of different paths I can take with PT like locations, specializations, and levels of experience. 

You are in an early assurance program for DPT, what has been the value of this program for you?
This program has been so valuable to me in many ways. Not only was the HEAP a big reason I chose UC, but it's also reassuring. I no longer have to stress about test scores, essays, letters of recommendation, or what graduate school will look like. I've been able to focus on making connections with classmates & professors, keeping my grades up, and exploring different specializations through observation hours. By doing these things, I can grow as a person and in my education instead of fretting over my future.

UC's Health Sciences –Pre-PT program is unique in that it is a track specific to students who want to become a PT, how has this improved your undergraduate experience? 
As someone who came into the program very set on PT, it was nice to have all 6.5 years laid out for me. I'm a very organized and planned-out person, so to see my life laid out was reassuring and very beneficial for me.

Anything else you would say to a prospective student that is trying to find the right program for them? 
I would say to research different jobs you are interested in and don't worry if you haven't figured out which direction you want to go in yet. You have plenty of time! Shadow a few different professions to see if you like what they do but don't immediately weed it out after one observation session. Give it at least 3 chances. I would additionally say get involved with something on or off campus! It's such an easy way to make friends and find that "home" away from home. Overall, take advantage of everything UC has to offer on-campus like free tutoring, the wellness center, the REC center, the university health services, and of course the sporting events!