We sat down with Samanta Zak - a student in UC's Pre-Physisians Assistant Program. She shared her experience and gave some advice for Pre-PA's future bearcats.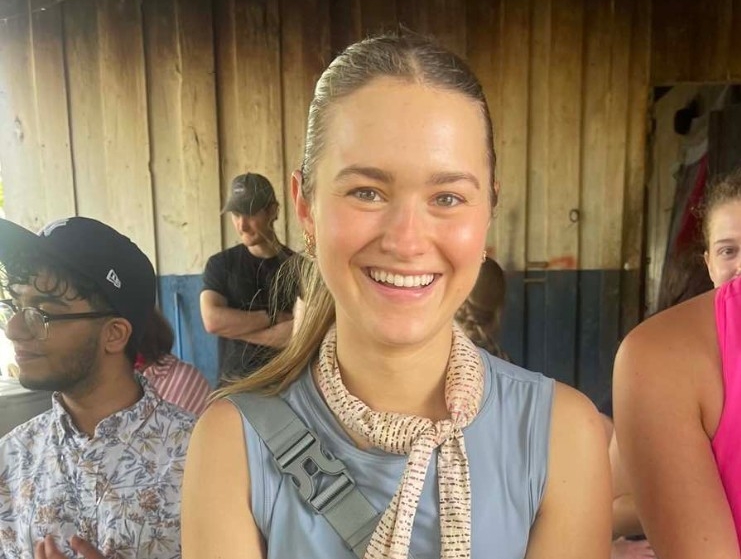 What do you enjoy doing outside of class, schoolwork, work, observation, etc.?
In my free time I love to exercise, listen to wellness podcasts, try new restaurants, read romance novels, practice mindfulness, and find fun new hobbies. Even though I love the PA field, I am also a huge mental health advocate. I believe there is so much more to experience in life other than school and working toward my future. I have currently been getting back into playing golf again and want to learn how to play pickleball and take a pottery class. While doing these activities, I love to bring friends and family along to spend intentional time together!
Are you involved in any student organizations and what has your experience been in those organizations?
 I am a Coordinator for the Learning Commons, a Research Coordinator through the College of Allied Health, a PCA at Cincinnati Children's Hospital, and a member of SAPPA. Working for the Learning Commons over the last couple of years has allowed me to grow both personally and professionally. I started out as a Peer Leader where I taught and mentored a Learning Community of freshman students for two years. I then went on to what I currently do, a Coordinator, who supervises Peer Leaders. In this role, I have made the most amazing connections with professional staff, my Peer Leaders, and fellow Coordinators. I have also developed my professional skills by conducting interviews, leading team meetings, and developing annual training.
In my role as a Research Coordinator, I have had the ability to collaborate and communicate with other researchers and participants in the study. I have learned so much about the backend of research and all the work that goes into it.
As a PCA, I have learned about the healthcare team and the important roles of each member. I have also furthered my education in pulmonology and endocrinology as that is the inpatient unit I work on. As I do not have clinical as an undergraduate, this job has been education within itself.
What are your career goals?
My goal is to attend PA school starting in 2024 after I graduate. I am currently going through the application process, so I am in the stage of embracing the unknown! I hope to work in emergency medicine following PA school graduation to get experience in high-risk situations immediately. I do not plan on staying in the same specialty forever which is why I love the lateral mobility aspect of being a PA.
What types of hands-on experiences have you been able to gain in the program?
The laboratories that are required in most of the science classes have been a great way to practice the information studied in lectures. There have been so many diagrams, models, exercise tests, and even cadavers available in class that have enhanced my understanding of different concepts. I have also participated in service abroad in Costa Rica through the College of Allied Health. This trip ended up being one of the most empowering experiences I have had during my time at UC. We were given the ability to expand our cultural competence while developing cultural humility in serving the migrant and asylum-seeking population in Costa Rica. We coordinated activities that provided education on topics such as mental health, hygiene, and nutrition. These experiences expanded my devotion to care in underserved communities.
How have the UC opportunities shaped your career goals or view of the profession?
My experiences at UC have continued to challenge yet assure me that I have chosen the right profession. The individuals I have met during my time at UC have not only helped shape me professionally but have also given me an idea of the type of provider I hope to be in the future.
What impact do you hope to have in the lives of your patients or in your field?
I hope that my future patients not only feel confident in my abilities as a practitioner but also comfortable under my care. I want them to feel like they can be honest with me and know I am making decisions that not only meet their physical needs but also their mental, emotional, and social needs.
Anything else you would say to a prospective student?
The first thing I would tell a prospective student is that although this process feels overwhelming, it is possible! Embrace the uniqueness of your journey and path to figuring out the career you want to pursue. Being yourself is what makes you stand out so do not try to do what everyone around you is doing. The second thing I would say is that by going the extra mile, working hard, and making connections with your professors and classmates a lot of opportunities will come to you.